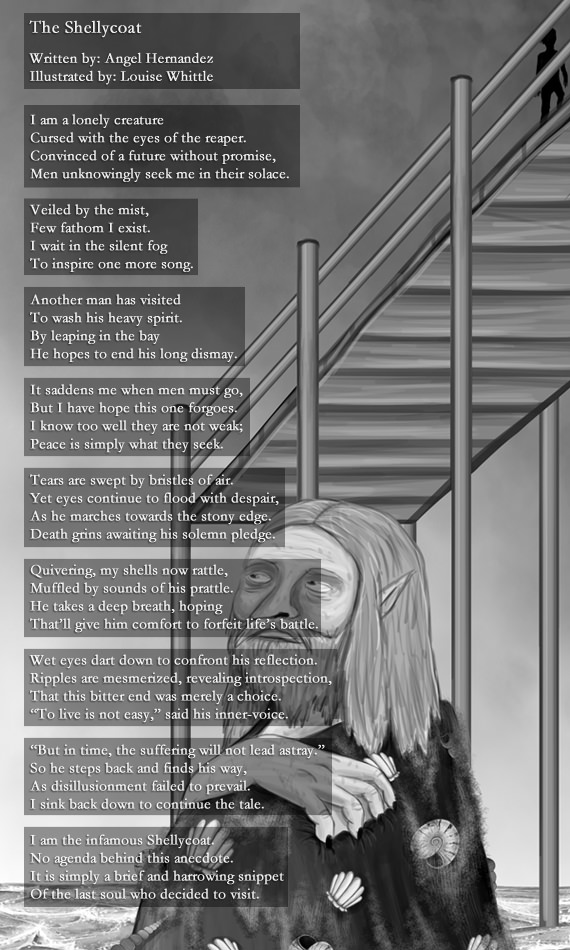 Angel Hernandez is the author of The Shellycoat, a poem he wrote discussing suicide. After losing someone he decided to bring more awareness to this issue through various outlets.
What poem really resonates with you?
Edgar Allen Poe's The Tell-Tale Heart as it serves as a reminder of the power of our mind. It made me more mindful about my subconscious even though the poem is talking about a guilty conscience. I personally interpreted it as Poe dishing out a general reminder and just happened to use that as a particular example.

How about books, is there a particular title that you really enjoy?
When I finished school I didn't read much aside from books related to business and self-development, however, one title in particular that I won't forget is The Catcher In The Rye by J.D. Salinger. I read it when I was younger and recently reread it as an adult and it continues to intrigue me. While Holden is not a character to emulate, his observations and frustrations about his environment are things I can relate to.

What writing are you most proud of?
Aside from some articles, I haven't really published much but out of all of the things I have written, this poem is something I am really proud of as I had to be very honest with myself and it caused me to give a lot of thought to where I was in life at that particular moment.

What inspired you to write this piece?
I normally don't write but occasionally get inspired to do so. In the case of this poem I wrote, I was inspired by a tragic loss.
Do you find it hard to share your work?
I was a bit hesitant to share this particular piece as it was very personal in nature and my commentary also made me a bit vulnerable. However, in the end, it's something that has to be shared as I hope my message can help out others.

Are your friends and family supportive of your work?
Yes, I have received positive support from both which was helpful.
How did you write this piece and under what conditions?
I wrote it primarily on the computer but did brainstorm a bit on paper, particularly the commentary section. The initial drafts were written at home but I rewrote one of the later drafts while traveling.
What do you hope people will take away from your poem?
I hope readers will gain some positive reassurance from it to help them with whatever issues they are up against.

Is there someone that you wish you could share your piece with but no longer can due to circumstances?
My cousin, who I dedicated the poem to, I am sure he would be proud of me.
You can read and even listen to the poem online over at https://shellycoat.com/poem