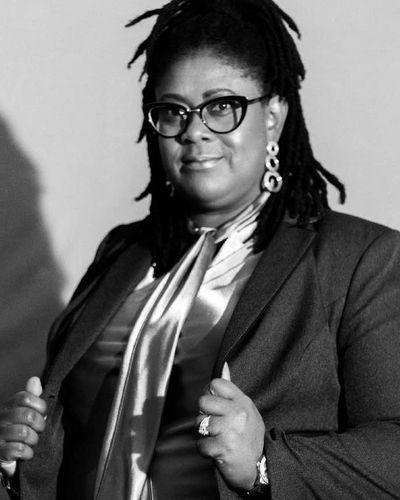 Pastor Suzette Grant-Walker is a Jamaican born Christian who now resides in the United States with her family. She is also a Singer, Motivational Speaker, Song Writer and Author. She has preached in numerous Churches both locally and internationally and possess a love for God that is unlike no other. Pastor Suzie's mantra in life is, "The fact that you are still here means whatever came at you wasn't meant to kill you, and that God has a greater purpose in mind for your life and calling." Her vision is to continue to empower married couples on a larger scale through sharing her story of the power of God at work in her life. She has gone through several obstacles; however, with God's help, she is still alive and well. She accredits all her many successes and gives all glory, power, honor, and praise to her Lord and Savior Jesus Christ. It was God who did it and still God who is doing it today in her life. 
Describe yourself in five words
Forgiving, compassionate, talented, God-fearing, attractive
What fact about yourself would really surprise people?
What would really surprise people about me is that I am not as strong as they think. I am a cry-baby.
How do you work through self-doubts and fear?
I work through self-doubts and fears by turning to prayer and God's Word and I also depend a lot on my husband's strength.
What scares you the most?
The thing that scares me the most is losing my family.
What makes you happiest?
The things that make me the happiest is the joy of having a beautiful family, spending time worshiping and encouraging others.
What writing are you most proud of?
The writing I am most proud of is my current book. I have touched on a topic a lot of married couples struggle with and I know that it will help many families around the globe. The Power of True Forgiveness will teach people to turn to God for help and guidance to help them keep the promises they made to each other on their wedding day.
What do you hope your obituary will say about you?
I want my obituary to say that I lived a life that impacted others to Christ. I showed through my living that God can be trusted. Most importantly, I want it to say that I was someone who had complete faith in God.
What motivates you to write?
What motivates me to write is first the fact that I know that God is using me to spread his word whether through my songs, preaching a sermon I write or my books. The other factors are my family and friends who have always supported me. Having that support helps to keep me going and sharing.
What else do you do, other than write?
The things that I do other than writing, are singing, being a wife and mother and working for Christ in my Church. I also have loved doing hair from a young age and still do that!
What other jobs have you had in your life?
I am a Certified Nurse's Assistant and I have owned my own business as a Certified Cosmetologist.
If you could study any subject at university what would you pick?
If I could study anything at University it would be Christian theology, I want a greater understanding of God.
If you could live anywhere in the world where would it be?
I would live in Hawaii if I had loads of money, or maybe on a private island. I kinda like my privacy, and my family and I love the beach.
Is your family supportive? Tell us about your family? 
I have a beautiful supportive family very respectful to each other, and helpful. Like all families we have disagreements but nothing unfixable; we love each other and we are quite close. My husband is extremely supportive, always right there by my side helping me achieve my dreams.
What books did you love growing up?
I grew up reading Bible stories, Mills & Boon novels and Danielle Steel novels.
Tell us about your new book? Why did you write it?
My book is about the power of forgiveness, and I wrote it to help others know that it is possible to re-establish trust after it has been shattered. Too many families and married couples are broken because of mistakes and my book is to show that we can forgive each other and move on. Getting married is not a joke. It's a commitment to one another and to God and we can't simply give up the minute something goes wrong. We ask for God's forgiveness daily and He forgives us without question. We too can extend the same level of love and compassion to each other.
Location and life experiences can really influence writing, tell us where you grew up and where you now live?
I grew up on the beautiful island of Jamaica!
What do you write about?
I write about the goodness of God, His power and love for all. My writing focuses on the things that we really feel but allow the society around us to force us to hide inside or dictate the decisions we make in our lives. In my latest book for example, I write about infidelity in my marriage and staying instead of getting a divorce because I took an oath and decided to forgive. Most people who face this challenge don't want to leave their spouse or their family. They would want to forgive and move on, but instead of doing that, they succumb to societal pressure instead of listening to God. He teaches us love and forgive. Through my writings, I show how we can hold to God's Word and be and live the way He intends.
When did you start writing?
I started writing over 17 years ago.
What challenges do you come across when writing/creating your story?
My book, The Power of True Forgiveness: We took an Oath is the only writing thus far that I faced any form of challenges with. When I started to write I realised that I had no idea what I was doing. The memories were fresh in my mind and brought back many tears but thanks be to God, no pain.
What does your family think about your writing?
They are thrilled. I am the first of the family to become an Author.
When did you first realize you wanted to become a writer?
I first considered myself a writer after writing a few of my songs but an accomplished Author when I released my manuscript into my editor, Kemone's, hand.
Do you have anything specific you'd like to tell the readers?
What I would tell my readers is that they should have an open mind and be prepared to make the necessary changes needed. Listen to God and only Him; He's always speaking to us if we quieten the noise, be it unforgiveness or self-pity.
Do you see writing as a career?
Writing is challenging but quite engaging and yes, I would definitely consider it as a career.